Revitalize Your Health
Are you ready for a healthier you?
By lowering exposure to environmental toxins and cleansing those that have accumulated in your body, you can feel better and create optimal wellness. Join Dr. Rohde for a 7-day science based detox program.
The Core Restore 7-Day Detox Kit provides three active formulas which function synergistically to support liver detoxification to help neutralize harmful toxins while providing essential macronutrients, phytonutrients, and a source of easily-digested, low-allergen protein. This easy-to-follow 7-day program reduces the incoming burden of toxins to restore optimal health.
Detox with Doc
What's included:
The Core Restore 7-Day Detox Kit comes with everything you need to successfully begin the detoxification process, including:
Core Restore dietary supplements

Core Support
PhytoCore
Alpha Base

Core Restore Patient Handbook


Easy to follow, daily instructions
Dietary guidelines
Sample meal plan and grocery list
You will also receive access to our private Facebook Group featuring daily updates directly from Dr. Rohde, including Facebook Live videos, Q&A with Doc, and support from program participants.
What are toxins?
Polluted waters. Solvents in gasoline. Pesticides sprayed on fruits and vegetables. We are subject to more toxins than ever before. Everyone has heard of toxins in the environment, but we don't even have to leave our homes to be exposed to them. The daily act of getting up in the morning, taking a shower, applying cosmetics, and eating breakfast exposes us to over 100 different chemical compounds! You will find chlorine in your shower water, fluoride in your toothpaste, parabens in skin care products, and even pesticides in our breakfast.
Normally, the immune system, liver, and kidneys work together to remove toxins at the same rate in which they are encountered. In environmental medicine, when toxin levels accumulate and exceed our body's capability to remove them, it is termed increased toxic burden.
Increased toxic burden may not be evident at first, but as time goes on, its effects can be seen in all body systems. In addition to external toxins, the human body can also create internal toxins. Stress and fear, for instance, can actually impact the gut flora in the colon! As toxic burden overwhelms the body, it becomes difficult to feel completely well.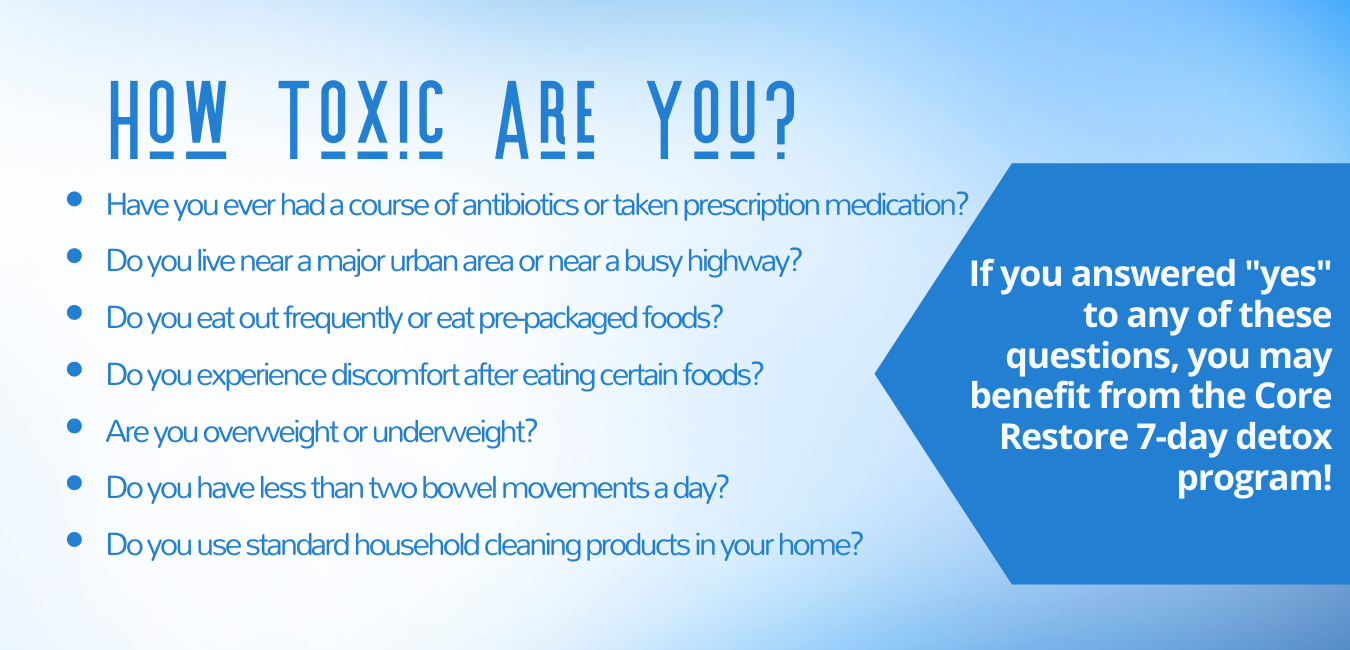 Why Detoxify?
To feel better:
Increased toxic burden can manifest in the body as a myriad of symptoms: occasional fatigue, irritability, temporary joint pain, brain fog, digestive problems, hot flashes, histamine sensitivities, sneezing and coughing. Reducing external toxin exposure is one solution. Many people eat organic foods, drink filtered water, and even eliminate problem foods to help reduce their toxin exposure. This is a great start. However, what has happened to all the toxins stored in the body from decades of living? The answer is - they are still there! Yes, we can reduce our current exposure, but it is paramount that we support the process of biotransformation. This aids the liver in both phases of detoxification, and ensures incoming toxins are removed and eliminated.
To improve metabolism and maintain a healthy weight:
Many people struggle to achieve a healthy weight. As we age, our metabolism experiences a slight decrease in function. However, the role of increased toxic burden in weight gain is often overlooked. Many toxins are stored in fat, and the body will increase the production of fat in order to protect the rest of the body from these circulating toxins' effects. Many people go on diets hoping to lose weight. They go down a pant or dress size, and six months later regain all the weight - plus some. Yo-yo dieting becomes a vicious cycle and can harm the body's metabolism. An effective detoxification program focused on biotransformation will help reduce the toxin burden contributing to the inability to maintain a healthy weight.
For optimum performance:
Detoxification is not just a one-time event. It should be repeated once or twice a year to prevent toxin buildup. Just as we change the oil in our cars to maintain their performance, we should do the same for our bodies. A good detoxification program can be the regular maintenance the body needs to perform at its best. If you feel progressively sluggish, tired, achy, and run down, maybe it's time for your "filter to be cleaned." Before you start, make sure:
You are 18 years of age or older
You are not pregnant or nursing
You inform your healthcare provider if you are experiencing any of the following conditions:

Eating disorder (anorexia, bulimia)
Type 1 or 2 diabetes
Kidney disease
Pain in the upper left or left lower abdominal area
Active gallbladder and/or liver disease

You take the Before Detox Questionnaire, provided upon registration
After you have completed the Core Restore program, be sure to take the After Detox Questionnaire for an informative "before-and-after" snapshot of your health.
LOCATION
Renew Total Body Wellness Center
3798 E. Fulton Avenue
Decatur, IL 62521
Phone: 217-864-2700
Fax: 217-422-0004
OFFICE HOURS
Monday

8:00 am - 5:30 pm

Tuesday

8:00 am - 5:30 pm

Wednesday

8:00 am - 5:30 pm

Thursday

8:00 am - 5:30 pm

Friday

8:00 am - 12:00 pm

Saturday

Closed

Sunday

Closed